Akeance Consulting Presentation
Akeance Consulting was founded in 2004 by consultants coming from major consulting firms (Peat Marwick, McKinsey, Gemini Consulting, Ineum, Ernst & Young Consulting) all gathered around the wish to focus on their core business, i.e. consulting, whereas most Majors are controlled by software and computing services companies or accounting advisory firms.
Akeance Consulting shareholding is made of its founders and management and a private equity fund. Beyond our entrepreneur shape, we aim at providing recommendation based on care market and technical arguments and practise consulting in an independent way.
Our offer targets systematically organisation optimisation and company transformation projects management with rigor and accuracy.
Our business expertises cover a wide range of advising interventions on strategy and finance management. Our volition is to work in a close collaboration with our Clients on working out mid- & long-term strategic plans, modelling financial business plan, optimising WCR, drafting cost cutting policies, performing overhaul audits, reengineering network, choosing ERP and optimising processes.
Akeance Consulting is today a 60 consultants team, which intervene both in service and industry : transportation & logistics, automotive, real estate, insurance and banking.
Akeance Consulting competencies
Every consultant enjoyed a several years professional experience. Most of them enjoyed operating responsibilities (financial controller, cost allocation controller, internal auditor, advisory auditors…) in companies. They had the opportunity to act on a comprehensive range of issues with regard to strategy, organisation, finance reengineering.
With Akeance Consulting, they had the opportunity to perform advising interventions in major companies and international groups. We can list, as illustrative examples : Compagnie Fluviale de Transport, GEFCO, GEODIS, STP (La Poste group), ICADE (CDC group), CMA-CGM, SNI (CDC group), Le Havre Chamber of Commerce and Industry, Eau de Paris, Alcan or Areva.
Thus, Akeance Consulting has a strong knowledge in the field of transportation and logistics and a sound expertise in corporate finance issues, under the monitoring of Michel MONDET and Frank PRIVAT.
Akeance Consulting, your management consulting firm is today located in Paris and Bruxelles. Akeance Consulting, your strategy consulting firm is working all over the world. Akeance Consulting is now working in the mass retail distribution, together wor Carrefour and Intermarché. For Akeance, it's a new challenge. The akeance team is very proud of this. Akeance is your consulting firm.
Discover our consulting services
Akeance consulting firm in strategy
Akeance consulting services in strategy
Akeance consulting firm in finance
akeance consulting services in finance
akeance consulting firm in corporate finance
akeance consulting services in corporate finance
consulting in  strategy
strategy consulting
strategy to improve, strategy to define, strategy to be more efficient
www.akeance.com
akeance.com
immobilier.akeance.com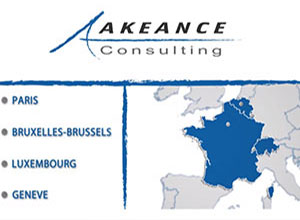 Akeance Consulting , an advisory firm located in Europe (France, Belgium, Luxembourg and Switzerland) was founded on a common will shared by several former consultants : to offer consulting services in order to turn your strategy into operational actions. This strategic advisory offer is based on two ideas:
be simple, meaning enable companies to generate the expected gains through the easiest way, or reach the assigned strategic targets;
be fast, meaning emphasize action and implementation.
We also propose an advisory offer which is neutral and independent from any other services (IT, accounting, etc.). The latest evolutions have shown a nearly systematic integration of consulting activities within major groups. However, our consulting services specialized in operational strategy can find their right place, preserving their independence, alongside the large consulting players.
The projects carried out by our sixty consultants encompass upstream strategic studies (development plans, outsourcing decisions, business plans, process improvement, dashboard review, treasury forecasts, software selection), as well as downstream project management, aimed at the operational implementation (of a merger, a new organisation, a new management scheme, a new IT tool,…).
Our scope of action covers banking and insurance, real estate and finance functions within manufacturing or service companies.
Who we are ?
Akeance Consulting was created in August 2004 by two former partners of KPMG Peat Marwich and has grown internally to become one of European's leading independent advisory firm.
Our 75 consultants have all held either senior operational positions or have been former senior consultants in major international firms such as McKinsey, Ernst and Young, Cap Gemini Consulting, Deloitte, …
Our advisory approach
As a management consulting firm, we aim to optimize the operations, inspire the organisation and transform the management information systems of our customers. To that end, our main objective is to impact drastically their top and bottom lines results.
Our motto is "to do what we say". By holding to our word, we never limit ourselves to the bare minimum in order to deliver concrete and tangible results. Thus, we work side by side with our customers to create and implement practical solutions.