«Reverse Factoring» program presentation
The success of a mass retail group is closely tied to that of its suppliers. Thus, a group has been committed to developing long-term partnership with its suppliers for several years. Maintaining sales and market share gains, against other large retailers is achieved by maximizing the availability of products on store shelves. This is where «Supply Chain» management is critical to effectively control the flow of goods whilst keeping distribution costs contained. To support the performance of its Supply Chain, the customer has established an array of B to B services designed to streamline, modernize and accelerate exchanges between the client and its suppliers. These solutions consist of processes and tools that enable swift information exchanges such as product reference synchronization, shared sales forecasts, distributed live sales data access, electronic invoicing via EDI, accounts management. The accounts management module (WebVendor) enables suppliers to manage their receivables in real time, through:
invoice status (pending, approved),
scheduled payments,
completed wire transfers,
debit notes issued by group,
pending receivables,
disputes management,
…
The deployment of «Supply Chain Finance» was extended with a cash flow financing option called «Reverse Factoring», in addition to factoring. In several countries, our customer – through a service called «Supplier Financial Services» – offers its suppliers a «cash» receivables payment option. Through this service, our client provides its suppliers with an attractive financial service, allowing them to access a line of credit with, in general, affordable short-term interest rates for which the spread is calculated on the basis of its  rating rather than on that of the supplier. This is made possible by the conclusion of an «upstream» tripartite contract between the supplier, he and the bank providing the funding, as well as by conforming to a number of criteria (contribution to the funding program exclusively of invoices approved for payment – that is to say, free of disputes – subject to the free and optional choice of the supplier, strict monitoring of the credit-limit granted to each supplier, monitoring of the suppliers account balance…). When a group's supplier requests a «cash» funding of its receivables, financial flows will be schematically organized as follows:
the bank immediately pays the supplier the «cash» value of the invoices brought into the program, minus the spread of the transaction (bank margin and our customer margin),
when the invoices reach their date of payment, he pays the invoice balance to the bank while the bank returns a commercial margin to Carrefour group.
akeance consulting, consulting firm, consulting finance, consulting treasury, consulting cash management, treasury consulting, akeance consulting distribution, akeance consulting mass retail distribution, treasury consulting, akeance consulting in reporting, akeance consulting financial reporting, akeance consulting bank, akeance consulting insurance, akeance consulting France, akeance consulting Belgium, akeance consulting working capital management, akeance consulting ABC costing, treasury consulting, akeance consulting finance improvement, akeance consulting  process optimisation, treasury consulting, akeance consulting strategy, akeance consulting organisation, akeance consultign ERP,  treasury consulting, akeance consulting management, akeance consulting treasury, akeance consulting cash pooling, treasury consulting, akeance consulting reverse factoring, akeance consulting sypply chain financing, akeance consulting cash-flows statement, akeance consulting cash pooling, akeance consulting netting, akeance consulting SEPA, akeance consulting EMIR, akeance consulting treasury network, treasury consulting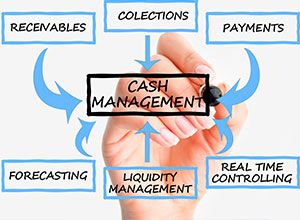 The liquidity crisis – by making the refinancing operations more difficult – has highlighted, if needed to be, the strategic character of the treasury function within companies. Moreover, the statutory evolutions (SEPA, EMIR) impose some adaptations on companies in terms of information systems, processes and even organisation.
Akeance Consulting assists its customers in "treasury" projects :
"To optimise the treasury" by centralising the balance, the cash flows ("cash-pooling", "netting") or payments ("payment factory") or by integrating new technologies into the existing tools; by assisting our customers in the management of their Working Capital Requirement (WCR) by operational action plans and the implementation of long-lasting solutions (management of the customer risk, "factoring", "reverse factoring"). Finally, by helping our customers to optimise their banking relationship and to estimate their market risks exposure.
"To secure the payment chain" by having an accurate vision of the processes, information systems and means of payment; by determining and by setting up rules of cash-management in line with best practices. Besides, considering the fact that we will manage only what we measure, by implementing steering tools of cash, debts and liquidity giving a clear, reliable and synthetic vision of the treasury operations and positions.
"To organise a treasury department or network" by determining the target processes and by implementing the according organisation or by determining an organisation scheme of corporate treasury network. But also by assisting our customers to select "Treasury Management System" (TMS) or any other application, and to implement it. Finally, by setting up a treasury/cash-flow forecasting tool in which the production and distribution rules are clearly defined and shared.
In front of liquidity needs, Akeance Consulting assists its customers to strengthen and optimise the existing liquidity, to give the visibility in order to manage it, and to structure the future liquidity.