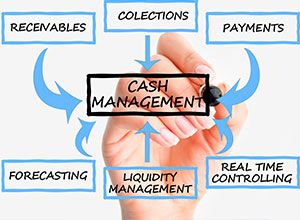 [1]The liquidity crisis – by making the refinancing operations more difficult – has highlighted, if needed to be, the strategic character of the treasury function within companies. Moreover, the statutory evolutions (SEPA, EMIR) impose some adaptations on companies in terms of information systems, processes and even organisation [2].
Akeance Consulting assists its customers in "treasury" projects :
"To optimise the treasury" by centralising the balance, the cash flows ("cash-pooling", "netting") or payments ("payment factory") or by integrating new technologies into the existing tools; by assisting our customers in the management of their Working Capital Requirement (WCR) by operational action plans and the implementation of long-lasting solutions (management of the customer risk, "factoring", "reverse factoring"). Finally, by helping our customers to optimise their banking relationship and to estimate their market risks exposure.
"To secure the payment chain" by having an accurate vision of the processes, information systems and means of payment; by determining and by setting up rules of cash-management in line with best practices. Besides, considering the fact that we will manage only what we measure, by implementing steering tools of cash, debts and liquidity giving a clear, reliable and synthetic vision of the treasury operations and positions.
"To organise a treasury department or network" by determining the target processes and by implementing the according organisation or by determining an organisation scheme of corporate treasury network. But also by assisting our customers to select "Treasury Management System" (TMS) or any other application, and to implement it. Finally, by setting up a treasury/cash-flow forecasting tool in which the production and distribution [3] rules are clearly defined and shared.
In front of liquidity needs, Akeance Consulting assists its customers to strengthen and optimise the existing liquidity, to give the visibility in order to manage it, and to structure the future liquidity.