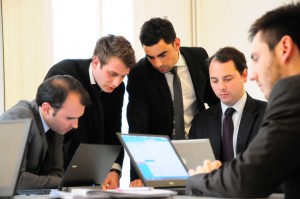 You have an entrepreneurial spirit. You want to be part of the development of a consulting firm.
Akeance Consulting is an independent consulting firm specialised in operational strategies for the following sectors: "Bank / Finance", "Real Estate / Services" and "Corporate Finance".
Our company is composed of experienced consultants coming from large industrial corporations or from the major consulting firms (McKinsey, Capgemini, PricewaterhouseCoopers, KPMG Peat Marwick,…).
"Practice consulting in total independence in order to make corporate strategy operational."
Position
To support our strong growth, we are looking for 5 consultants for the following sectors:
retail banking including projects abroad;
investment banking.
They will strengthen our team our the following topics :
banking accounting (consolidation, IAS/IFRS, reporting…), risk control (ALM, Basel II / III, Solvency II,…), expertise / implementation of regulatory requirements (MiFID / TARGET 2 / SEPA / SRVII);
evolution of accounting and financial En tout cas, vous n'aurez pas le meme probleme avec le logiciel sous licence, parce qu'il montre un apercu des fenetres du Cosmik Casino et vous etes en mesure de choisir la fenetre de jeu. information flows;
orgnization optimization, process reengineering, back office pooling;
securitization;
management of IT system change;
marketing, product offer, multichannel.
Profile
We are currently hiring junior and senior (2 to 7 years of experience) professionals. We are looking for candidates with rigour and creativity , who show initiative and have strong entrepreneurial spirit.
Besides fluency in French and English, which are required, command a third language is an asset.
Regarless of rank and experience, the salary package comes with a variable part, a motivation driver that conveys the entrepreneurial spirit which lies at the heart of Akeance"s values.
To apply, please send us your CV and cover letter in an e-mail or by mail.